See on Scoop.it – Green Living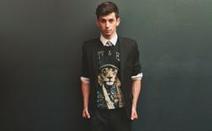 Graphic tee shirts are more relevant then ever so get ready because this summer the brand Loyalty and Heart makes a bold statement with eco friendly fashion and Luxury in mind.
The bold American luxury brand, Loyalty and Hearttakes an audacious stance with its 2013 spring/summer eco friendly fashion line. Since its first inception L&H has blurred the line between environmental sustainability & high-end fashion. The L&H logo represents unyielding principles that transcend the very fabric that bears its symbol. The imagery on their clothing creatively captures urban style, luxury and artistic expression. What makes the L&H brand so uniquely Eco-Friendly is its ability to merge two worlds, which, historically have been on opposite sides of the spectrum. L&H brings together "green" concepts by using eco-friendly inks and materials, with the demand for obtainable high-end fashion. Loyalty and Heart is proving that being eco-friendly and fashionable is no longer an oxymoron.
The newly released Loyalty and Heart 2013 spring/summer line consists of three collections: Loyalty and Heart, Lion's Den and L&H New York. Each creative piece has its own unique name and personality. The most sought after collection, the Lion's Den Collection is graphically driven with powerful imagery that caters to anyone with a love for artistic edge. The creative, yet symbolic use of a stylish lion clearly establishes the identity of the brand. L&H New York carries a cool sophistication communicated through urban type and quality fabrics. Birthed in NYC, names like The Soho and The Metropolitan reflects the brands deep connection to the city it was birthed in. The style and feel of the L&H brand is a perfect representation of New York City swag and responsible luxury. Found on-line athttp://www.loyaltyandheart.com and coming to select boutiques throughout the U.S., loyalists of L&H are captivated by this unique experience.
See on www.prweb.com